The NCAA must've wanted to avoid more outrage.
It tried to please everyone by settling on its format for the 68-team tournament next year. The "First Four" will feature the lowest seeds and the last at-large qualifiers in games that will be played on Tuesday and Wednesday before the Big Dance begins.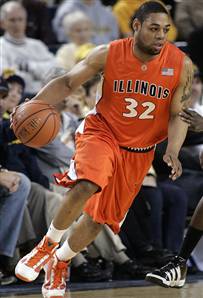 Tony Ding/AP
This year, that might've meant games between Virginia Tech and Illinois, or Minnesota and Mississippi State. Perhaps Arkansas-Pine Bluff and Winthrop, along with Lehigh and East Tennessee State would've faced off in the others. Is that better? Worse? Hard to say. Only thing for certain is that it lets fans watch more games. (So it's not all bad, no matter the matchups.)
Whether you love it, hate it, think it's lame, or think the solution was the only logical thing to do, there's only one thing to do: Get used to it.
"You're not going to come up with the perfect model," outgoing committee chair Dan Guerrero said. "You're not going to come up with a model that is going to appease every constituency out there. But we felt that this model provided the opportunity to do something special for the tournament."
Many coaches are satisfied with the solution (though Virginia Tech's Seth Greenberg is not one of them), which has its pros and cons – Matt Norlander does an excellent breakdown of 'em.
The strangest move may be where the games will be broadcast: TruTV. Yes, TruTV, formerly known as Court TV, the place I turned to in college to solve my insomnia.
I suppose that's one way to boost the tournament's "reach" among average viewers, given that TruTV is in roughly 93 million households, while ESPN and ESPN2 are both in about 100 million. College hoops fans will seek out the "First Four" games on a different network, while I doubt TruTV viewers would've changed to ESPN, which is where the play-in game has been shown the last few years.
To recap: The Big Dance expands to 68 teams in 2011 and features four first-round games that will be shown on a non-sports network. Times do change.
Mike Miller's also on Twitter, usually talkin' hoops. Click here for more.