As the Big 12 continues to iron out the kinks of its new 10-team conference (and presumably adjust the name), there's still a sense of foreboding among the schools, particularly the five who almost were left behind: Kansas, Kansas State, Iowa State, Baylor and Missouri.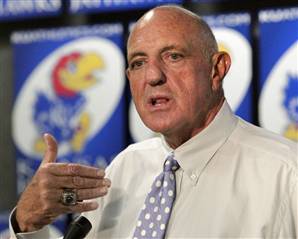 Orlin Wagner/AP
This detailed article by Sam Mellinger of the Kansas City Star lays out the many issues the conference still faces, most notably that there isn't a "10-year agreement usually referenced by officials such as KU A.D. Lew Perkins" keeping the schools in place. Rather, the schools have a "genuine commitment to the Big 12," Missouri chancellor Brady Deaton told Mellinger.
My advice? Forget the Gentlemen's Agreements and get something on paper. The last thing the Big 12 needs is for another conference to come along poach another school. Does anyone really believe that the remaining 10 schools are "more stable" because they're committed to what they have?
Or do they just like the idea of eventually splitting $200 million among 10 schools?
This summer of realignment and NCAA tournament expansion's made me more skeptical about people's motives than ever before. And a smart school would take precautions.
Consider that a Kansas source told Mellinger that the school never doubted it'd be included in a BCS conference, but that it didn't have a backup plan. Just hope.
If that doesn't make every Jayhawks fans shake with dread, I don't know what does.
Still, Mellinger says that the feeling among school and conference officials is that without Nebraska griping about Texas' power, perhaps the remaining schools can all get along (with the help of extra $$$). And, to be fair, they are working on it.
"We're not starting out with any assumptions that it will be different," Deaton told Mellinger. "But I would be less than honest to not say those are issues that've been of concern to a number of institutions — all institutions, really. I'm not saying it has to be any particular way, one way or the other. But it's gotta be issues that we recognize and work together to build on."
Build away. In the meantime, I'll be waiting for the next time a richer conference starts luring a Big 12 school. And then we'll go through all of this again.
Mike Miller's also on Twitter, usually talkin' hoops. Click here for more.