Good news Kentucky fans : John Calipari's recruiting reputation is getting a boost. Need I mention this is bad news for everyone else?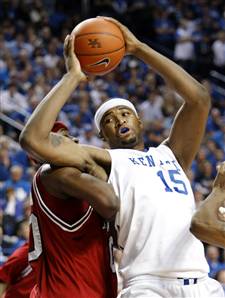 Ed Reinke/AP
Calipari's been synonymous with NBA-bound point guards, sending the likes of Derrick Rose, Tyreke Evans and John Wall to the pros, two of whom were selected No. 1 overall. Well, with DeMarcus Cousins and Daniel Orton going in 2010's first round, prospective bigs are taking notice.
Amir Williams, a 6-foot-10 center from Detroit, told the Lexington Herald-Leader that a coach who can get big men into the NBA is a huge recruiting plus.
"That's real important," Williams said. "I want to go to a school that will use their 'bigs,' develop their 'bigs' and put them in the pros."
He's not the only one, either.
Recruits such as Anthony Davis and Kyle Wiltjer have elevated Kentucky on their short list and others figure to do the same. The dribble-drive offense may scare off some recruits (it's seen as more guard-friendly), but those concerns will evaporate as more and more big men get drafted.
"I think Calipari's reputation extends almost equally to big guys as point guards," analyst Brick Oettinger of the Prep Stars recruiting service told the paper. "How many other coaches had two freshman big men going in the NBA Draft? And not just this year. Ever."
Just when you thought Calipari couldn't do much better at recruiting…
Mike Miller's also on Twitter, usually talkin' hoops. Click here for more.