There's an embarrassment of riches on the USA Basketball Select squad.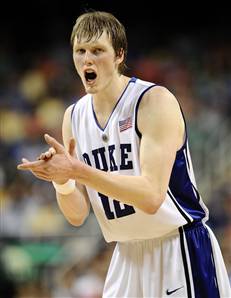 Jeff Zelevansky/Getty
Nolan Smith, Kyle Singler and Shelvin Mack all played in the national title game. Jimmer Fredette and LaceDarius Dunn are among the nation's elite scorers. Marcus Morris and JaJuan Johnson will be vying for All-America honors at forward. And that's just for starters among the 20-man roster.
Now comes the tough part. Coaches Jay Wright and Lorenzo Romar have to settle on a rotation. It's one of those "nice problems to have."
Luckily for them, there's no shortage of Internet advice.
SI.com's Luke Winn surveyed 20 various writers and bloggers on Twitter to see who they'd start among those guys. The results will probably be fairly close to what Romar and Wright decide.
First Team
1. Jacob Pullen
2. LaceDarius Dunn
3. Kyle Singler
4. Marcus Morris
5. JaJuan Johnson
Second Team
1a. Kemba Walker
1b. Jimmer Fredette
1c. Nolan Smith
4. Chris Singleton
5. Trey Thompkins
That's a salty group. Rob Dauster thinks Smith might be preferable over Pullen (because of how Smith played in the NCAA tournament), while Jeff Eisenberg says Singler's probably the one no-brainer among the group.
Can't argue with the teams or either sentiment. But I'll go one further on Singler: He's not only the no-brainer among the players, but he's also the most invaluable. If there's an issue involving playing time, or chemistry, Singler's the best option to resolve any issue by shuffling him into various roles or positions.
And if that's the case, I'd say this summer could set up Singler for a shot at national player of the year in 2010-11…if he can hold off the rest of this squad.
Mike Miller's also on Twitter, usually talkin' hoops. Click here for more.