Few teams are more desperate for a big season than N.C. State. The Wolfpack are 71-62 since Sidney Lowe became coach in 2006-07, finishing 10th, 11th, 10th and 9th in the ACC standings.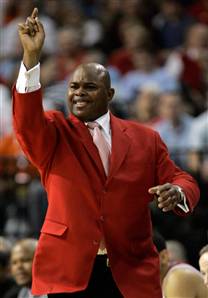 David J. Phillip/AP
That's a tough run for a hoops proud school.
Well, the players are trying to do something about it. Senior Tracy Smith, incoming freshman C.J. Leslie and others are playing in the S.J.G. Greater NC Pro Am summer league at N.C. Central. The goal, as Leslie told the Raleigh News & Observer, "is for us to make sure we jell together."
Then again, Lowe's not sold. He says he played in a total of four summer league games in two years and usually found other ways to "work on his game." He warned his guys to focus on their teamwork, not showboating.
"Don't go pick up bad habits," Lowe said. "You pretty much play the same way. I know it's going to be a little looser than normal, but don't go out there and pick up bad habits."
Is Lowe being overbearing? Not really. His guys are on the same page. They're just trying to work out some kinks. Tough part will be waiting to see when/if it all pays off.
"You have to know everything about your teammates," Smith said. "College is very different than high school. On this level, chemistry is very important."
Mike Miller's also on Twitter, usually talkin' hoops. Click here for more.