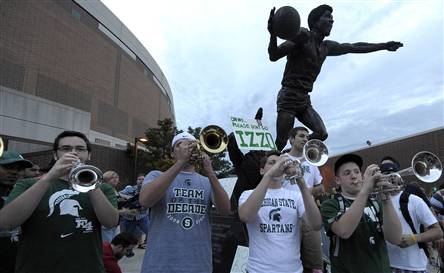 Dale G. Young / AP
Everyone in Michigan wants to know what Tom Izzo's doing. Friday it was fans gathering outside the Breslin Center. Today, it was an inquisitive camper and state lawmakers. 
Bill Ford Jr. must be next.
A bipartisan group of seven Michigan lawmakers (Izzo's apparently the unifier) wrote the coach encouraging him to stay in East Lansing, according to The Hill.com. And they laid it on thick:
"Coach Izzo, you certainly have had great success on the basketball court, with an NCAA National Championship, six Final Four appearances and four National Coach of the Year awards," the lawmakers wrote. "Far more important than that in our eyes, however, is that you have been an ambassador for Michigan, a philanthropist and the kind of leader of student athletes of whom every Michigander can be proud.

"Coach Izzo, we wish you nothing but the best of luck in the future, a future we certainly hope includes you and your family remaining in East Lansing focused on continuing to win titles at Michigan State, change young men's lives and promote Michigan on the national stage."
Tough to top the camper, though. A kid at Michigan State's week-long basketball camp showed no fear Monday morning, asking Izzo if he was heading to Cleveland. Not that the coach liked the query.
"Bad question," Izzo said. "[the media] want to know that."
That kid's got a future as a sports blogger/writer.
Mike Miller's also on Twitter, usually talkin' hoops.