Turns out the Big 12's demise was greatly exaggerated.
Thanks to commissioner Dan Beebe's last-minute proposal to Texas, the Big 12 isn't disintegrating. Colorado and Nebraska may be gone, but the conference will continue, simply with 10 teams.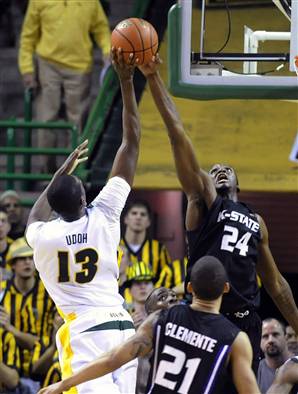 Rod Aydelotte/AP
Cue sighs of relief from various parts of Kansas, Missouri, Iowa and Texas. There. Feel better?
Now, if the Big 12 stays at 10 teams (forget naming issues for a moment), we can thank the football-driven realignment for providing us with the nation's best college basketball conference.
That's right, the best. Ditching deadweight like Nebraska and Colorado left the Big 12 with no weak links. (Well, maybe Iowa State. Though who knows? Maybe Fred Hoiberg will be a natural…)  Check this lineup:
Kansas is one of nation's elite programs. Texas brings in elite recruits and hasn't missed the Big Dance since '98. Baylor and Kansas State were Elite Eight teams this season. Missouri and Oklahoma got there last season. Oklahoma State has won two NCAA titles and continues to be a March contender. Texas A&M has turned itself from laughingstock (0-16 in league play in 2004) to NCAA tournament mainstay. Texas Tech started the last decade strong and has faded a bit, but is far superior to the 'Huskers or Buffs.
Those were the league's worst teams the last 10 years.
Nebraska was the picture of mediocrity. It was 159-149 overall, won 37 percent of its league games and hasn't been to the NCAA tourney since '98. It's average league finish? Eighth.
Colorado was worse. It wasn't as consistently mediocre, making the Big Dance in 2003 and winning 20 games twice in the last 10 years. But it was dead last in the Big 12 three of the last four years and just lost its coach.
That leaves Texas Tech and Iowa State as the league's two "pushovers," though that's' hardly the case. Both are among the league's best home teams – leaving Lubbock or Ames with a victory is about as easy as leaving Lawrence with one – and figure to stay that way.
The new Big 12. It's not a MEGA conference, and it's still football driven. But its basketball takes a backseat to no league.
Mike Miller's also on Twitter, usually talkin' hoops.