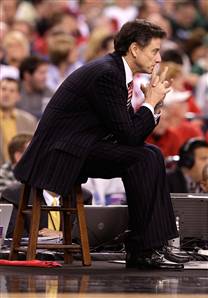 Everyone knows the cautionary tales of college coaches who dared venture to the NBA. Rick Pitino, John Calipari, Mike Montgomery, Lon Kruger all took their lumps and returned to the NCAA.
So how many names will be invoked in an effort to convince Tom Izzo to stay at Michigan State? Will we be referencing P.J. Carlisimo or – gasp! – Tim Floyd? How much scarier can it get?
Even if LeBron James does stay in Cleveland, cementing the Cavs as one of the NBA's top teams, there's no guarantee Izzo will still have the job in three years. As Mike DeCourcy writes, that's not how the NBA works.
… Perfection is priced into the job. The previous coach, Mike Brown, led the team to the most regular-season victories in the league in each of the past two seasons, and to that Finals appearance just three years back, and for that he was thrown into unemployment.
Sure, the money's great (Montgomery never needs to work again), but Izzo doesn't need the money. None of these big-time coaches do. It's about working at a place that fulfills you. Take it from a guy who's made the NBA jump twice.
"My advice to him would be, if you're really happy where you are, then it doesn't make any sense to mess with happiness," Pitino told Seth Davis. "Happiness is more important than money. Happiness is more important than a new challenge. Also, you're on the threshold of making the Hall of Fame. If he called me, I'd tell him, 'Tom, put yourself in a seat belt and stay at Michigan State.'"
That's what nearly every college hophead is saying. Why leave when you've spent the last 14 years building the Spartans into one of the game's premier programs?
Sometimes a new challenge – and the Cavs would certainly be a challenge – isn't worth the gamble.
Besides, a better challenge would be winning a second national title with Michigan State. Meeting that challenge would cement a lasting legacy.