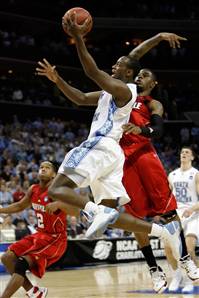 As the great conference realignment continues to take shape (Nebraska leaving the Big 12, with the Texas schools and Colorado soon to follow), Kansas fans are having a harder and harder time avoiding panic mode.
When Bill Self fears the worst, the Jayhawk faithful have little reason to stay optimistic.
So here's a solution: Instead of building giant football conferences that don't take into account college basketball, let's do away with having schools play in the same basketball and football conferences and group them according to their sport. (Kinda like Georgetown, Villanova, Temple and a handful of other basketball schools do now.)
Think of the possibilities. Instead of Kansas slogging its way through another basketball game against Colorado, it could be in a regional conference among other basketball schools. Forget having USC football crush Washington State every year. Have the Trojans match up with Oklahoma or Boise State.
My buddy Terry sent around these recommendations today, though I don't see why we'd only have eight teams in two conferences for each sport. Four to six regional conferences of eight to 10 teams makes more sense, though this provides perhaps the ideal breakdown for fans.
BASKETBALL
Smith Conference (East)
 
Duke
Kentucky
West Virginia
Georgetown
Syracuse
North Carolina
Louisville
Maryland
 
Wooden Conference (West)
 
UCLA
Kansas
Oklahoma State
Indiana
Gonzaga
Michigan State
Arizona
Missouri
 
FOOTBALL
 
Bryant Conference (East)
 
Florida
LSU
Penn State
Georgia
Clemson
Auburn
Alabama
Florida State
 
Rockne Conference (West)
 
Ohio State
Michigan
Texas
USC
Notre Dame
Oklahoma
Oregon
Boise State
Can you imagine trying to get tickets to one of these games? It's making me giddy just thinking about it.
Mike Miller's also on Twitter, usually talkin' hoops.