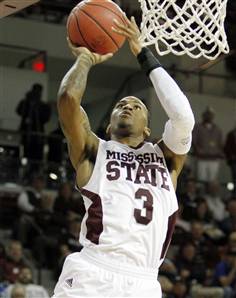 Dee Bost is either dumb or ill-prepared. Neither are a good sign.
The 6-2 point guard is taking summer school classes at Mississippi State in hopes of playing next season even though he declared for the NBA draft and did not withdraw by the May 8 deadline.
What's that you say? Why would Bost be eligible to play next season when he missed the withdraw date? Excellent question. For that, Bost is pleading ignorance. In short, he thought the NBA's withdraw date (June 14) applied, rather than the NCAA's date of May 8.
Bost's defense — and Mississippi State is supporting his appeal but isn't overly confident — is that he didn't know the rule and made his decision within 12 hours after the deadline passed. But according to sources, MSU wasn't told before May 8 that Bost was thinking about pulling his name out of the draft.
Dude, Dee, how did teammate Ravern Johnson withdraw his name in time? How did you miss the boat on this one?
Yes, the NCAA didn't do anyone any favors by moving up its withdraw date, but if you didn't know May 8 was the day …  well, that's life. Sometimes, you make poor decisions and have to live with 'em. College teaches you that lesson.
Mike Miller's also on Twitter, usually talkin' hoops. Click here for more.