The 2012 Duke-North Carolina game(s) may end up sounding like an Abbott and Costello skit. There could potentially be three Plumlees and two Zellers on the court. Good luck to the scorekeepers and announcers.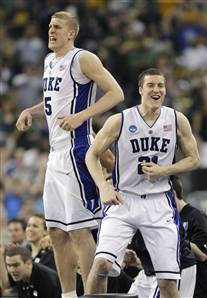 David J. Phillip/AP
Will another Plumlee join Mason and Miles Plumlee at Duke?
---
Cody Zeller and Marshall Plumlee are two four-star prospects in the high school class of 2011 and currently play together on the Indiana Elite. They're both 6-11, mobile and fairly skilled players who would be a boon to most any program. But the Heels and Devils presumably have the inside track because their brothers are already in Chapel Hill and Durham.
Tyler Zeller will be a junior next season at UNC. Miles will be a junior and Mason a sophomore at Duke. So what will their younger brothers do? Ken Tysiac from the Raleigh News & Observer says don't expect an answer anytime soon.
The big question on college basketball fans' minds is whether they will join their brothers at North Carolina and Duke, respectively. Well-schooled in the recruiting process after watching their older brothers go through it, Zeller and Plumlee answer virtually the same way.

"I'd love to play with my brothers again," Plumlee said. "We all love each other, but that's not the deciding factor in my decision. I want and they want what's best for me."

"I'm not going there just to play with [Tyler]," Cody Zeller said. "I've got to do what's best for me. I'd only be playing with him at most one year, and I don't want to decide on my college just for one year."
Zeller will reportedly whittle his list of schools down to five after the summer. Plumlee's dad, Perky, says Duke has offered Marshall a scholarship, but he's also not ready to decide.
Then again, there's a third possibility. They could attend the same school. And that would be sure to irritate at least one fan base.
Mike Miller's also on Twitter, usually talkin' hoops. Click here for more.