Questions surround Eric Bledsoe's college eligibility. The NCAA is investigating issues regarding academics and extra benefits, according to a report from the N.Y. Times.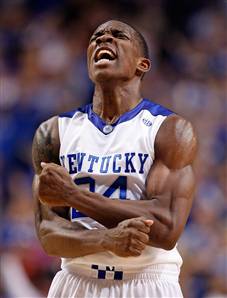 Andy Lyons/Getty
---
Meanwhile, Kentucky fans have only one question: What does this mean for the Wildcats?
At best, nothing (though we won't know for a while).
At worst, it'll be as if the 2009-10 season never existed. And that's a sobering thought. From ESPN's Dana O'Neil:
A source with knowledge of NCAA rules said "depending on the specific facts that come out," the NCAA's options include deeming Bledsoe ineligible, which could potentially lead to forfeited games or even a vacated season.
The school says Bledsoe passed an extensive review process by the school, by the NCAA Eligibility Center and was cleared academically.
If you think that sounds like the Derrick Rose situation at Memphis, you'd be right. Then again, it also sounds like the Darrell Arthur situation at Kansas. It's hard to say how it'll end up, but there are four things to consider, as O'Neil writes:
Did the relationship develop as a result of the athlete's participation in athletics?
Did the relationship predate the athlete's status as a prospect?
Did the relationship predate the athlete's status achieved as a result of their athletics ability/reputation?
Was the pattern of benefits provided before the athlete's notoriety similar to those provided after?
Maybe John Calipari should start to reconsider his recruitment of at-risk players. And perhaps the NCAA should adjust its rules when it comes to some of these players' situations. Sometimes, it's just all gray.
The only thing I know for sure? It's going to be a tense few months in Big Blue Nation.
Mike Miller's also on Twitter, usually talkin' hoops. Click here for more.