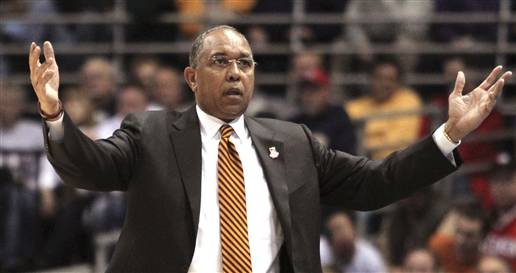 ALLEN FREDRICKSON / Reuters
---
Tubby Smith's rough spring just got worse.
First, it was the player exodus.
Highly touted freshman Royce White left the team at the end of last season while suspended for legal issues. Junior Paul Carter transferred to Illinois-Chicago. Freshman Justin Cobbs is home in California looking for a school closer to home. And junior Trevor Mbakwe is also eyeing a transfer.
Wednesday, the Minnesota coach was on the losing end of a jury verdict that awarded former Oklahoma State assistant Jimmy Williams $1.25 million. Here's the reason:
The jury found that Smith falsely represented that he had the authority to hire Jimmy Williams when he called Williams in 2007 to talk about an assistant coach position in Minnesota. Williams claimed Smith offered him the job and that after that conversation, Williams resigned from his $200,000-a-year post at Oklahoma State.
Williams reportedly wasn't hired because he had NCAA violations in his past. Guess the jury thought otherwise. (Minnesota is likely to appeal the verdict.)
The whole thing has become too much for Minneapolis Star-Tribune columnist Jim Souhan, who places the blame with Smith and athletic director Joel Maturi. Sure, Smith's teams are a dramatic improvement over former coach Dan Monson – making the NCAA tournament earns you that nod – but in nearly every other regard, Souhan's fed up.
The hiring of Smith, even if it was really Smith doing the hiring, offered the promise of on-court success without embarrassment, the promise of clean victories and a classy power coach in whom we could believe.

It turns out Smith looks better on paper than in person. His résumé is impeccable. His work in Dinkytown is spotty.

Smith has returned the basketball program to relevance, and to the NCAA tournament. He has not, however, become the ambassador for the program or the university that we assumed he would be. He has not been as visible or as charming as many of us expected.

His program might have already peaked.
Uh oh. If that's the case, Tubby's on thin ice. Not a good thing in Minnesota.
Mike Miller's also on Twitter, usually talkin' hoops. Click here for more.