There's a "50-50 chance" Evan Turner could be the No. 1 pick in the NBA draft. That's means it's 50-50 the high school class of 2007 sits atop the draft. For the third time.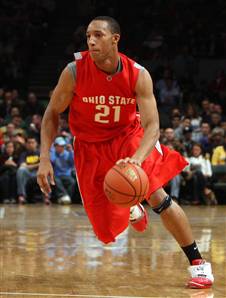 Jim Mcisaac/Getty
---
Think about that. First it was Derrick Rose going No. 1, then Blake Griffin. Now Turner could follow suit and reinforce just how impressive that really was.
Consider the names: Rose, Griffin, Michael Beasley, Turner, O.J. Mayo, Kevin Love, DeJuan Blair, Eric Gordon, James Harden, Patrick Patterson, Jerryd Bayless, Kyle Singler, James Anderson, and Robbie Hummel. And that's just for starters.
They've also had two of the last three players of the year (Turner and Griffin) and just missed on three-for-three when Beasley lost out to Tyler Hansbrough.
Simply put, they comprise a class that impacted the game as freshmen on a larger scale than any other class since 2003, writes Basketball Prospectus' Josh Reed. Most freshmen classes have four-six impact freshmen. The 2007 class had 16, according to Reed.
Perhaps more impressive – given how many of them were one-and-done players – is the number of first-team all-americans the class has had. If Singler, Hummel and another senior are all-americans in 2011, that'll be the most from one class since 1990.
On a less positive note – but no less interesting – The Dagger played off of Tubby Smith's 2009 bust of a freshman class and detailed which schools had the single worst classes since 2005.
The "winners" for each year: UCLA (2008), USC (2007), Florida (2006) and Duke (2005).
The worst among those would have to be the Bruins. They brought in the nation's No. 1 class, yet don't have much to show for it. Drew Gordon and J'Mison Morgan are no longer there, Jrue Holiday went pro after one year and Jermie Anderson's inconsistent enough to drive even the most devout fans crazy. At least Malcolm Lee can play a little.
Perhaps the most surprising on that list is Florida. The Gators won the first of two titles in 2006, yet had two guys transfer (Doneal Mack and Jon Mitchell) and had Marreese Speights turn pro as a sophomore. No wonder Billy Donovan only reached the NIT in 2008 and 2009.
Mike Miller's also on Twitter, usually talkin' hoops. Click here for more.