The Maui Invitational should send Terrence Jones a gift basket or some kind of "thank you." He just made their 2010 tournament the must-see event for college basketball's first month.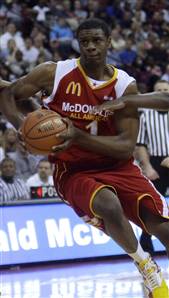 Terrence Jones
Jones, a 6-9 forward, spent the last few weeks trying to choose between Washington – where he verbally committed on April 30 – and Kentucky. Wednesday night, he picked the Wildcats, signing a financial aid package and thereby turning any Kentucky-Washington game next season into perhaps the season's most intriguing game.
Guess which teams are both playing in Maui?
The matchups aren't set yet, but organizers would be nuts not to have these two play. It'll be all the media and fans will talk about.
As for Kentucky, Jones' commitment – he's not bound to the school in case something changes in the next few months – gives the Wildcats another killer recruiting class. According to Rivals.com's rankings, that's four of the top 21 prospects, and three of the top 14. The list:
No. 3 overall: Enes Kanter, PF
No. 6: Brandon Knight, PG
No. 14. Terrence Jones, PF
No. 21: Doron Lamb, SG
No. 26: Eloy Vargas, PF (transfer from Florida)
No. 33: Stacey Poole, SF
Compare that group to last season, when Kentucky coach John Calipari brought recruits ranked 1, 2, 22, 23 and 40th overall.
Better? Worse? The same? That's for the recruitniks to decide. I'm too busy shaking my head at how Calipari can reel in back-to-back classes like these. That loaded roster is why Jones eventually changed his mind and settled on Kentucky.
"I felt like they played a better schedule and had a lot better team," Jones told The Oregonian.
If the team is anywhere near as good as last season's 35-3 squad that reached the Elite Eight, Jones will be right. Then again, if we're lucky, we'll know which team is better once Maui rolls around.
Mike Miller's also on Twitter, usually talkin' hoops. Click here for more.